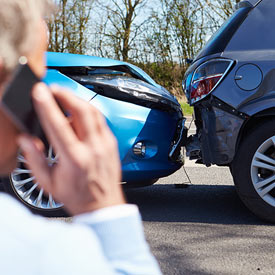 Chicago is the busiest city in the United States. It is the third most populous US city, with just over 2.7million residents. Large trucks that deliver various goods and materials are seen daily in Chicago to support the city's industry and satisfy consumer demand.
Large trucks can be very dangerous, even though they are necessary. Truck accidents can happen even if the truck driver is driving safely. One of the most common types of large truck accidents - and one of the most serious – is a blind spot truck accident.
Our aggressive personal injury attorney Paul Fina can help you or a loved one if they have been injured in a blind spot truck crash in Illinois. We can help you understand your legal rights. Contact us today to schedule a free consultation about your truck accident case.
What Is A Blind Spot Accident?
Blind spot accidents are an accident in which the driver of one vehicle does not see another vehicle, pedestrian, cyclist or motorcyclist. This can lead to the victim running over, backing into, running off the road or side-swiping other parties. These accidents occur when the victim was in the driver's blind spot, which is an area that the driver cannot see during operation.
Blind spots are present on all vehicles, but they are particularly large for big trucks. For example, blind spot accident statistics noted by Consumer Reports reveal that while the average-height driver of a passenger car may have a rear blind spot of about 12 feet, a pickup truck driver will face a rear blind spot distance of about 24 feet.
Large trucks' blind spots, referred to as "no zones" by the Federal Motor Carrier Safety Administration (FMCSA), are even bigger: 30 feet directly behind a large truck, two lanes to the right of a large truck, one lane to the left of the truck, and 20 feet directly in front of the large truck. The large area of poor visibility can pose a serious threat to anyone who is caught in it.
Blind Spot Collisions: Common Causes
Blind spot collisions can occur for many reasons. The most common reason is that the driver of large trucks did not see the smaller vehicle in its blind spots and adjusted his truck so that it impacted the smaller vehicle. It could be caused by:
Tailgating a passenger car or being tailgated from a large truck
Truck driver's aggression, i.e., Tap the truck's brakes in order to make a driver back off
During a routine truck driver lane change, the truck driver does not see the truck driver in his or Her blind spot.
A passenger car "hanging out in" a truck's blind spots.
Blind spot accidents can be avoided in most cases. Truck drivers need to be able to spot blind spots and avoid accidents.
Safety Tips While Driving Abroad Large Trucks
While you cannot always control other drivers on the roads, there are safety precautions that you can take to ensure your safety when driving next to large trucks. As a passenger vehicle driver, there are some ways you can avoid a blind spot truck collision.
When changing lanes, give large trucks lots of space.
Your blinkers can be used to signal to a truck driver what you are going to do.
Do not spend too much time in the blind spot of a truck driver – pass quickly if you must.
Avoid passing large trucks on the right. They have blind spots that are bigger and truck drivers are less likely to expect you.
Do not tailgate or engage with other aggressive behavior around large trucks.
Injuries Caused By A Blind Spot Incident
A side-swipe accident or an under-ride/over-ride collision could result, as well as a passenger vehicle being run off the road by a larger vehicle. The injuries could be severe, and the passenger car driver or occupant may suffer serious medical issues.
Traumatic brain injury
Limb crush or amputation injury
Back or neck injury
Injury to the spinal cord
Internal injuries
Bone fractures
Facial injuries
These injuries can be costly and painful. They can also cause long-term problems for victims. Our knowledgeable Illinois truck accident attorneys help crash victims demand full and fair compensation for both current and future damages.
Who Is Responsible For A Blind Spot Trick Accident?
It can be difficult to determine who is responsible for blind spot accidents. Without a thorough investigation, it is difficult to determine who is at fault for truck accidents involving blind spots. Truck drivers' inability to see is often the reason for truck accidents. Sometimes, however, other parties may be at fault. Our blind spot lawyers will examine your accident to determine the cause and who should be held responsible.
What To Do Immediately In The Event Of A Blind Spot Incident
You must immediately take the following steps after a blind spot incident:
Seek medical care.
Notify your insurance company and the police about the accident.
Get the name and address of the truck driver, as well as the name of the employer.
Collect all evidence possible, including photos of the accident scene and any injuries.
Note the contact information and names of witnesses.
For immediate assistance after a truck accident, call our offices. Our team of dedicated lawyers will immediately launch an investigation into the accident and begin documenting your injuries.