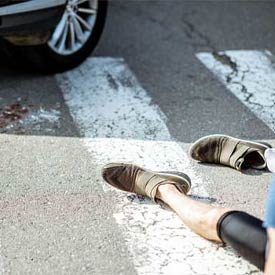 What Is A Crash?
The word "crash" may be new to some people as a way to describe the event in which a bicyclist or pedestrian greets the ground, a motor vehicle, or any other solid object in a way that can result in bodily harm and/or property damage.
Bicyclist and pedestrian "crashes" are not random events. They fall into a pattern of reoccurring crash types and occur because the parties involved make mistakes. The mistakes can be identified and counteracted through a combination of education, skill development, engineering, and enforcement measures so crashes can be substantially reduced.
Whether you are a pedestrian, bicyclist, and motorist, you generally go through a similar sequence of actions leading from searching for and recognizing a potential crash situation to taking steps to avoid it.
The steps in this sequence are:
Search – Both driver and bicyclist or pedestrian scan their environment for potential hazards.
Detect – One or both parties (bicyclist, pedestrian, or motor vehicle) sees the other.
Evaluate – The threat of collision is recognized, along with the need for action to avoid it.
Decide – Assess risk and select the actions necessary to avoid a collision. This may involve judging location, closing speed, the direction of travel, position in traffic, likely behavior, and other factors.
Action – This step involves the successful performance of the appropriate action(s) to avoid a collision.
Even though you take the above-mentioned steps, approximately 6,500 pedestrians and 900 bicyclists are killed each year as a result of collisions with motor vehicles. As a group, pedestrians and bicyclists comprise more than 14 percent of all highway fatalities each year. Pedestrians account for as much as 40 to 50 percent of traffic fatalities in large urban areas.
If you or a loved one is involved in a pedestrian or bicycle crash, contact an attorney who has the experience to successfully prosecute your claim for injuries. Paul Fina will personally walk you through the accident claim process and help you recover what you or your loved one is due.