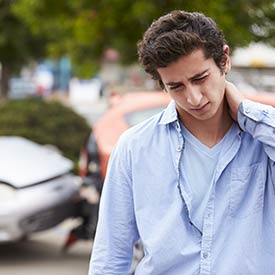 As your injury attorney representing you, we are responsible for determining the extent of your injuries/damages and how they affect you now and in the future. Debilitating motor vehicle personal injuries caused by someone else's negligence will require medical attention and time. We can secure maximum compensation for your recovery if we have all the information we need.
Fina Law Offices skilled lawyers will evaluate what happened and consult with experts, if required, to fully understand the effects of your car accident. Because we are familiar with all the types of injuries that may occur, our auto accident lawyers have extensive experience obtaining fair compensation. These are some of the injuries we have helped with:
Traumatic Brain Injury
Whiplash
Spinal Cord Injury
Broken Bones
Strains and Sprains
Burn Injury
Amputation
The CDC breaks down the different types of TBI symptoms. Traumatic brain injuries are among the most severe types of car accident injuries. A traumatic brain injury can occur when someone is hit with a blow, bump, or jolt to their head. MedlinePlus states that half of the TBIs happen because of motor vehicle accidents. Traumatic brain injuries can lead to many health problems. These injuries can be primary or mild, but even minor injuries can prove fatal.
Traumatic brain injuries can cause cognitive, emotional, and sleep problems in some people. The physical symptoms include blurred vision, headaches, dizziness and light sensitivity dizziness, early nausea and vomiting, balance problems, fatigue, and insufficient energy. A person with mental symptoms may have difficulty concentrating, remembering new information, or feel slow.
TBI can cause a person to feel sad, irritable, or anxious. Interrupted sleep cycles can include sleeping more, being more petite, or not falling asleep. These symptoms may not be apparent at first, so it is essential to be aware of them. Some signs may be noticeable immediately, while others can take time. You should consult your doctor if you start to notice any problems several days, weeks, or months after your accident.
What Damages Can Your Compensation Cover?
You may find yourself facing significant expenses if you have medical bills, plus the possibility of being unemployed from being out of work or unable to work, in addition to your lost wages. You don't need to choose between paying for the medical care you require or your mortgage bill. To determine the extent of your economic losses, our firm will review your medical records, your work history, and any property damage to find out how many days you have missed.
Your Accident Caused Economic Damages. These Include:
Medical Expenses (Past & Future Care)
Lost Wages
Loss of earning
Property Damage
Non-economic damages refer to other effects of an accident that don't have a monetary value. These are just as devastating as economic damages. These damages can be hard to quantify to determine your compensation. However, our lawyers have many years of experience in analyzing and calculating the cost of an accident.
Both pain and suffering
Loss of enjoyment of life
Loss of companionship
Why Is Legal Representation Important?
It may seem obvious that a professional is necessary for your claim. Fina Law Offices has extensive experience building cases. We are familiar with the process and can provide the evidence you need. The statute of limitations in Illinois states that you have two years to file a claim.
Is It Difficult Or Painful To Complete A Simple Task?
How To Protect Your Claim
Your claim can be affected by your actions following a car accident. It's essential to understand what you should do after a car crash. What about the other person involved in an accident? You may already be familiar with how to deal with insurance companies.
Let's take a look at what to do following a car accident.
After A Car Accident
Don't take unnecessary risks. Accidents involving cars can happen quickly, and it can be pretty overwhelming to realize what happened. Many people don't know what to do next. The first thing you should do is remain calm. Assess yourself for any injuries. Call 911 immediately if you are hurt. Paramedics will be on the way to you and can provide you with the medical care you require. In the state of Illinois, you're obligated to call emergency services if you're in an accident that results in injury, death, or property damage of over $1,500.
Talk To The Police
You may come across a hit-and-run driver, as we discussed under identifying your car accident. Although you might want to stop someone from fleeing the scene, it is not a good idea to put your safety at risk of an accident. If possible, keep track of details such as the driver's name, make and model of your car, and license plate.
Request A Medical Evaluation
Allow first responders to examine your injuries once they arrive. They will be able to help you with any personal bodily damages and arrange transportation to the hospital. Because of the shock, it is possible not to report your injuries after a car, truck, or motorcycle accident. It's possible to feel like you aren't hurt at all. Injuries can develop over time.
It Is Crucial To Have A Comprehensive Health Exam.
A medical physician/doctor can identify if you have suffered major injuries such as a concussion, high blood pressure, or other conditions that could cause a stroke or heart attack. Your lawyer at Fina Law Offices will be able to use the report they have about your injury accident police report.
You should see a doctor immediately after an accident to get an evaluation.
Gathering The Necessary Information
If you are both able, you'll need to exchange information at the scene. You will need their name, contact information, as well as the number of their insurance policy. It is also a good idea to take a note about the vehicle involved in an accident. Get the Vehicle Identification Number (VIN).
A team of lawyers will be available to represent you if a large company is responsible for your injuries. This can be a daunting factor. But, if the company's negligence caused your injuries, they must be held accountable. Fina Law Offices has the team to defend you against negligent companies.
Fina Law Offices Will Provide The Representation You Need
There are many parts to the claims process, which can be very stressful. Fina Law Offices has all the expertise and passion for gathering the evidence, determining who is responsible, and proving that your injuries result from their actions. Even if it means going to court, we will fight for maximum compensation. Our lawyers have represented clients in court before and can prepare you and your case for that.
To Get Started On Your Legal Journey, Contact Our Office Today And Schedule A Case Evaluation.
Our Downers Grove: Chicago car accident lawyers will review your case to assess its merits and determine the best options to protect your interests. We will answer all your questions and help to determine the best course of action. We will then help you fight for your rights, get fair and total compensation for your injuries so that you can continue your recovery and move on.
Traumatic injuries Sometimes the brain injury can leave the victim in a coma. You may also find them in a vegetative or minimally responsive state. It can be challenging to see a loved one in such situations. A car accident lawyer can help you defend the rights of your loved ones.
A car accident can also cause the neck to jerk back and forth–also known as whiplash. Hyperextension is when the head moves backward. Hyperflexion, on the other hand, occurs when the head moves forward. Whiplash can cause dizziness, headaches, stiffness in the neck, jaw, and other symptoms such as stiffness. Sometimes whiplash can also affect the arms and shoulders.
Injuries to the spinal cord can be permanent. A partial injury is when the injured person feels some sensation but has limited mobility below the injury site. Paralysis can also occur from the injury site. Paralysis can occur if an injury occurs to the lower portion of the spine. Problems with the circulatory or respiratory system and bladder and bowel problems can all occur.
Broken bones can make it challenging to work or move for several weeks. Extreme pain can result, especially if the bones are exposed. These injuries can also present a risk of infection, which may require additional treatment. Although you might expect to make a full recovery, your lifestyle will be influenced by your injuries for the next few months or even years.
Major Injuries And The Consequences
Let's look at catastrophic injuries and how Fina Law Offices could help you secure your financial future. If a limb is majorly damaged or significant in an accident, it can be amputated. The injured person will need to adjust to the fact that they have lost a limb. Our car accident lawyers will help you determine how your injuries could affect your life. We will also seek compensation to ensure you receive the care you need without worrying about the costs.
You need someone to help you protect your future if your injuries have a profound impact on your life. An experienced Downers Grove- Chicago car accident lawyer understands the devastating effects of significant personal injury damages. These injuries can prevent a person from working for a living. They will not be able to return to work and will likely face a long road of recovery. After an auto accident, soft tissue injuries such as sprains or strains can also happen. A sprained wrist injury may not cause any life-threatening complications, but it can be very frustrating. These injuries can lead to chronic pain that will require medical treatment.
Our auto accident lawyer will work tirelessly to ensure that your damages are sufficient so that you can focus on healing and not worrying about additional expenses.